El Dorado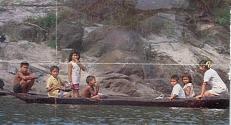 The Land of Many Waters
--------------------------------------------------------------------------------

That is Amerindian meaning of this country's name. However Guyana is much more than just the
"land of many waters".

Guyana is small, little known country bordering the Atlantic Ocean in the northern part of South America. It is a beautiful land diverse not only in natural fauna, but in the cultures of its people and the land itself. Lush verdant tropical rainforest covers much of the land providing a home for an endless variety of birds, plants and animals. Next are the great savannah lands deeper in. Eventually near the country boundaries you will reach Guyana's highest point: the Mount Roraima -at over 9000 feet.

When flying into Guyana is an breathtaking sight in itself. You catch glimpses of the vast stretches of the rainforest interior as you pass down through the mist of the clouds and then watch as the sun reflects off the Demerara river.

Ask any Guyanese and they will tell you the true beauty of the country is in the interior.
The interior as in the forests, savannahs, waterfalls, mountain ranges and rivers from which Guyana derives it name; the Guyana is the Amerindian word meaning: "The Land of Many Waters". The largest of these rivers is the Essequibo, this river has an island in it larger than the country of Barbados! This river has around a thousand islands. The two other main rivers are the Berbice and the Demerara. What many in North America would call a river, Guyanese would call a creek! The Demerara river is bridged by the world's longest pontoon (floating) bridge at 2 km. The other two rivers use ferrys to get vehicles and people across. You can take a boat tour like I did and see the riverside settlements, houses on some of the islands, as well as the pristine rainforest as well. On some of these islands are historical ruins such as the Dutch fort on Kyk-Over-Al island. There are also a few island resorts like Baracara Island resort on the Mazaruni River, part of the Essequibo.

The three main rivers branch off to form smaller rivers some which drop off to form waterfalls. Not just any waterfalls but some of the highest, most spectacular falls in the world. Kaieteur Falls off the Potaro river is the most well-known for its breath-taking 226 m (741 ft) single drop, it then plunges for another 25 m for a total of 251 m (822 ft). That's almost five times as high as Niagra falls and over twice as high as the Victoria falls (in Africa). And Kaieteur falls is not the only one, the Great falls which is made up of five cascades is 488 m (1600 ft) high in total.

Of course that's not all there is to see in the mighty interior of Guyana. The majestic, untouched tropical rainforests give Guyana the distinction of having the world's best kept rainforests. Take a hike into the woods, see some of the hundreds of different species of birds such as the macaw, toucan, or the harpy eagle in their native habitat. You may also spot monkeys swinging through the massive trees, or hear them at least. The deeper you get the stranger or rarer animals you may find. , One may be fortunate enough to spot the elusive and seldom jaguar or some of the many other jungle cats. Most likely you wouldn't want to get too close, there are tour operators that offer guided treks into the interior. As you travel deeper into Guyana you may encounter the unique black waters of some of the rivers or creeks. These waters are not polluted, you can drink it, its colour comes from the surrounding vegetation. Its quite beautiful to just sit and watch the peaceful serenity of the black waters.

That was an "intro" the interior, there are also beaches along coast line adorned with such as 63 beach and Shell beach. Don't expect to find too much at Guyana's beaches, it's just you, the sun, sand, and the water. However, on Shell beach at the northern tip of Guyana you'll find a resort where one can watch 4 of the 8 rare species of sea-turtle come to nest.

About 90% of the population lives near the coast so around here is where you'll find most of the towns and cities. Since much of Guyana is below sea-level, it is protected by the Dutch built stone sea-wall as well as an elaborate system of sluices and drains. You'll always find activity at the sea-wall, whether it be night or day. It's quite nice to take a walk on the sea-wall at sunset overlooking the ocean in the distance. It's beautiful view nicely complimented by the fresh ocean breeze of the Atlantic.

Georgetown, the capitalcity is known as the "Garden City" of the Caribbean. It gets this name from the Botanical Gardens covering 100 acres which are considered to be some of the best in the world. Here you can see and feed rare and endangered animals such as the manatee.
There is also the Georgetown Zoo, not very big, but the unique creatures such as the Harpy eagle (the world's largest eagle) and the anaconda that can be found in the zoo make it worth while.
You can also check out the Stabroek clock tower, built entirely of cast iron in 1792. The surrounding market, built in 1881, covering about 77 000 square feet.
Standing at 145 feet high and finished 1894, St. Georges Cathedral in Georgetown is reputed to be the tallest wooden building in the world.
Other attractions include Guyana's Parliament house, City Hall, and Sacred Heart.
Many of the buildings in Guyana such as City Hall boast architecture dating back to the colonial days of Guyana. These buildings are very unique in design; you wouldn't find buildings like them anywhere else. The reason why Georgetown is being considered as a site on the World Heritage List.

A word of caution
However, I don't want to scare all you would be tourists off, Guyana has a great deal to offer for those looking for a true taste of nature at its finest, gorgeous scenenary, and even for those who want to see rare architecture found no where else.




--------------------------------------------------------------------------------






General Information
Climate
The climate in Guyana is hot, but pleasant for most of the year, particularly in the coastal belt which is cooled by the sea breeze. The average temperature ranges between 79°F and 87°F. The rainy season occurs in May and June, and then again in December and January, with an average rainfall of 91 inches.

Go here for a five day weather forecast for Georgetown.

History
Guyana is derived from an Amerindian word meaning "land of many waters." The area of the Guianas, bounded by the rivers of the Orinoco, Amazon, Rio Negro and the Atlantic Ocean, is believed to have been settled before 900 AD by Warrau Indians, and later by the Arawak and Carib tribes. However, there is no evidence from these times of a very advanced civilization.

Sir Walter Raleigh's voyage in 1595 and his subsequent book on the riches of Guyana, did much to stimulate interest in the area. The French and English, as well as the Dutch, laid claim to the region in the 17th century, and it was settled in separate areas by the three nations - the Dutch colonies being located in what is now Guyana.

From 1781 onwards, British influence became increasingly evident, but it was not until 1814 that the colonies of Essequibo, Demerara and Berbice were finally ceded to Britain, while the Courts of Policy and Combined Courts, the legislative and executive bodies created by the Dutch, remained in operation under British rule for another century. In 1831 the three colonies merged to become British Guiana.

The territory attained its independence on May 26, 1966 and became a Republican State on February 23, 1970.

Our People The original inhabitants of the territory were Amerindians. They number approximately 45,000 and are divided into nine tribes : Arawaks, Warraus, Caribs, Wapisianas, Arecunas, Akawaios, Macusis, Patamonas and Wai-Wais. These tribes are scattered throughout Guyana inhabiting both forest and savannah regions. Subsistence farming, basketry and craftwork are common to all tribes.

Amerindian woman with baby in head sling.

During the 18th and early 19th centuries slaves were brought in large numbers from West Africa to work on the cotton and sugar plantations. When slavery was abolished in 1834 the former slaves refused to work for their former masters, even for wages. They left the plantations and established their own village communities.

Immigrants were therefore brought in to work, first from Europe (Germany, Malta and Portugal), then China, and eventually in large numbers from India. Today the country's population reflects its immigrant history with Africans, East Indians, Chinese, Portuguese, Europeans, Amerindians, and a fascinating mix of all these races - living side by side.



Capital

Georgetown

Commercial Centres

Georgetown, New Amsterdam, Linden, Rose Hall, Corriverton, Anna Regina.

International Airport

Timehri, 42km from Georgetown.

Time

GMT -4. Current time in Georgetown.

Area

216,000 sq km

Population

750,000 estimated

Language

English and Creole are widely spoken throughout Guyana.

Currency
The official currency is the Guyanese dollar, but the U.S. dollar is widely accepted. Foreign currency can be changed at banks, cambios and hotels.

Electricity
110V and 220V.

Entry Requirements
Click here for a full listing of Visa Requirements for Entry Into Guyana

Visitors are advised to check with the nearest embassy, consulate (Consulate in Canada, Embassy & Consulates in U.S.A.) or travel agent before departing for Guyana.

Emergency Numbers
Police : 911
Fire : 912
Ambulance Service : 912

Direct Dialling
Collect Calls
Canada : 161
USA : 165
United Kingdom : 169


--------------------------------------------------------------------------------

CLICK FOR:5-DAY WEATHER FORECAST
Georgetown: The 19th-century wooden houses supported on stilts and charming green boulevards laid out along the lines of the old Dutch canals give the capital a unique character. Some of the more impressive wooden buildings dating from the colonial past include the city hall, St George's Cathedral, the Law Courts and the State House. The Botanical Gardens, which cover 120 acres, have a fine collection of palms, orchids and lotus lilies; nearby is the new Cultural Centre, which contains what is probably the best theatre in the Caribbean. Also worth visiting is the Natural History Museum, which contains an up-to-date display of all aspects of Guyanese life and culture, and the Walter Roth Anthropological Museum.

Bartica: At the junction of the Essequibo and Mazaruni rivers is the 'take-off' town for the gold and diamond fields, Kaieteur Falls and the rest of the interior. A visit to the Kaieteur Falls in the Kaieteur National Park is particularly recommended; situated on the Potaro River, it ranks with Niagara, Victoria and Iquazú in majesty and beauty

Fishing: The rivers and the interior abound in game fish, the best known of which is the man-eating piranha (called locally perai). The most sought after by the sportsman is the lucanni, a fish similar to the large-mouth bass. Most of the interior rivers are difficult for the more casual visitor to get to, but those who book in advance can reach them by air. Some of the coastal rivers within reach of Georgetown are also good for fishing, although it is wise to stay overnight in the fishing grounds, as the best are four to five hours' drive from the city. Fishing licences are required.

Horseriding: Horses are available at Manari Ranch in the Rupununi Savannahs.

Cricket and hockey are both popular, and the Bourda is one of the most attractive cricket grounds in the area.